We habe high hopes. High hopes of textiles, but also high hopes to make the world a better place. With The Swapshop we want to reduce the textile mountains, but besides swapping the hopes of non swappable clothes is getting bigger as well. We are hopeful about solutions. Since we started this adventure, we are working together with partners to find ways to reduce these hopes.

Revolve waste

Collaboration

Up-cycled
The Swapshop goes to Italy
Explanation about what The Swapshop is, our mission, why swapping is the feel good way of shopping, the first shop in Milan to be opened, and our problem of the unswappable clothes.
From The Swapshop to Humana
About the mission of Humana, collecting clothes, invest in social projects and sustainability, unswappable clothes go to Humana for sorting, what does Humana do with the clothes, jeans selected from their recycle category that would have otherwise been?
Made in social laboratory
Designed by Francesca Patania, up-cycle expert, made by social cooperative, quality check, only denim, artiginal. Part of the Occhio del Riciclone Network.
Naturally dyed with the newest innovation
Tonello, WAKE technology, organic waste, no toxics, logo lasered, each bag is unique because of slighly different colour.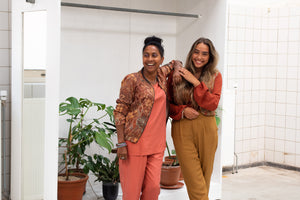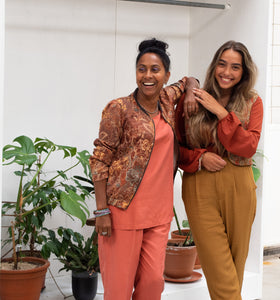 Double your warranty time
High hopes
About how fun it is to keep discovering solutions.
Close to zero impact
It doesn't get more sustainable than up-cycled fashion accessories. No plastics, no leather, no zippers, etc. Mono material and why mono material is important. Impact in respect to recycling jeans and in respect to similar bags from virgin materials. Designed for recyclability, so at the end of life they can easily be recycled.
Need a upgrade?
Does your sleeve need a little bit of love? We are happy to give a golden touch to it. Patchwork, sewing or personification, whatever you hope for.
Get repair